Organizations are turning to new data types and new forms of analysis to remain competitive. The availability of real-time location data from vehicles open up endless possibilities for creating value, provided that there is adequate infrastructure to collect and keep up with all that data. Due to the increasing capabilities of mobile devices, geospatial computing in automotive is a fast-growing trend. The portable nature of these devices, as well as the presence of useful sensors, such as Global Navigation Satellite System (GNSS) receivers, make them useful for capturing and processing geospatial information in the field.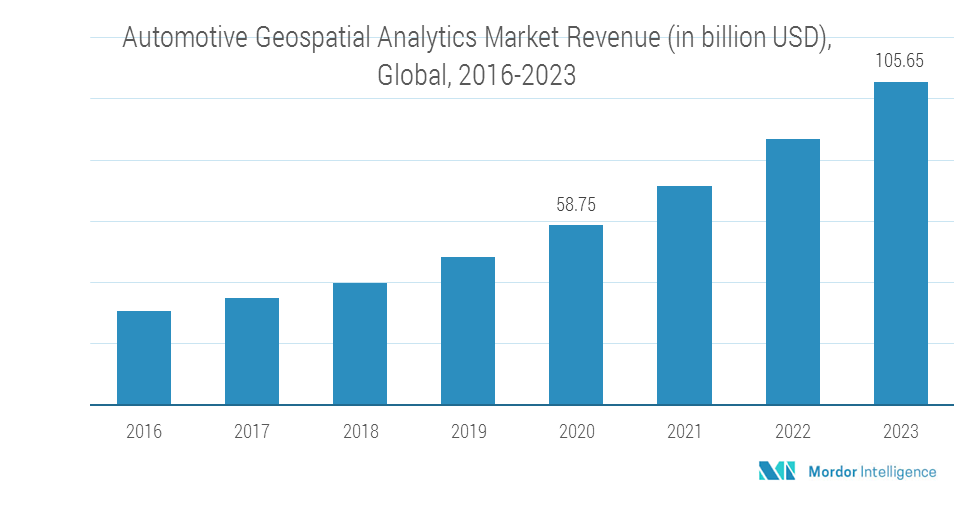 Source: Mordor Intelligence Analysis
Connected cars help in generating a huge database from a vast array of sources. Cars interact with other vehicles and smart devices, exchanging real-time data and alerting drivers to potential collisions, traffic updates, and alerts. The connected cars have telematics, mechatronics, and artificial intelligence to interact and connect with the environment to offer more comfort, safety, security, and entertainment. They are equipped with WLAN hotspot, social media applications, internet facilities, and entertainment devices. The growing ability of the cloud to store and process huge amounts of data will help to drive and facilitate the derivation of automotive geospatial data significantly in the future.
Market Dynamics
Around 250-275 million connected cars are expected to be on the road globally by 2023. The market for connected cars will help to drive the geospatial analytics market proportionately and significantly. Organizations can use geospatial data to fuel analytics in the real world in a number of ways. One most common use is dynamic insurance pricing, where an extensive catalog of geospatial data is maintained and geospatial encoding engines are run to maintain high-performance databases, where historical and real-time data are put together. Asset-based Intelligence is adopted by the transportation companies that operate in a large network of assets, and must constantly seek to maximize their use. The mobile asset tracking systems provide transportation companies with geospatial information that gives a tremendous amount of real-time information that is then harnessed to optimize networks.
Key Developments in the Market
February 2018: Alexa interacted with Mapbox HD Maps for a hassle-free driving experience
February 2018: Daimler, BMW, and HERE Technologies have partnered to make "HERE HD Live Map an integral part of the two automakers' autonomous driving technologies
Major Players – IBM, Teradata, Trimble Geospatial, and TomTom Automotive among others.
Reasons to Purchase this Report
Analyzing various perspectives of the market with the help of Porter's five forces analysis
Detailed analysis of the product type that is expected to dominate the market
Detailed analysis of the regions that are expected to witness the fastest growth during the forecast period
Identifying the latest developments, market shares, and strategies employed by the major market players.
3-month analyst support, along with the Market Estimate sheet in excel
Customization of the Report
This report can be customized to meet your requirements. Please connect with our analyst, who will ensure you get a report that suits your need.
1. INTRODUCTION
1.1 Scope of the Market
1.2 Executive Summary
2. RESEARCH METHODOLOGY
2.1 Study Deliverables
2.2 Study Assumptions
2.3 Analysis Methodology
3. MARKET OVERVIEW AND TRENDS
3.1 Current Market Scenario
3.2 Technology Trends
3.3 Industry Attractiveness – Porter's Five Forces Analysis
3.3.1 Bargaining Power of Suppliers
3.3.2 Bargaining Power of Buyers
3.3.3 Threat of New Entrants
3.3.4 Threat of Substitute Products and Services
3.3.5 Intensity of Competitive Rivalry
4. MARKET DYNAMICS
4.1 Drivers
4.2 Restraints
4.3 Opportunities
5. MARKET SEGMENTATION, BY MACHINERY TYPE (MARKET SIZE, GROWTH, AND FORECAST)
5.1 By Type
5.1.1 GPS
5.1.2 GIS
5.1.3 Remote Sensors
5.2 By Application Type
5.2.1 Safety and Navigation
5.2.2 Insurance
5.2.3 Logistics
5.3 By Vehicle Type
5.3.1 Passenger Cars
5.3.2 Commercial Vehicle
6. REGIONAL MARKET ANALYSIS (MARKET SIZE, GROWTH, AND FORECAST)
6.1 North America
6.1.1 United States
6.1.2 Canada
6.1.3 Rest of North America
6.2 Europe
6.2.1 Germany
6.2.3 United Kingdom
6.2.4 France
6.2.5 Rest of Europe
6.3 Asia-Pacific
6.3.1 China
6.3.2 India
6.3.3 Japan
6.3.4 Rest of Asia-Pacific
6.4 Rest of the World
6.4.1 Brazil
6.4.2 Other Countries
7. COMPETITIVE LANDSCAPE
7.1 Introduction
7.2 Market Share Analysis
8. COMPANY PROFILES (OVERVIEW, FINANCIALS**, PRODUCTS & SERVICES, SWOT ANALYSIS, AND RECENT DEVELOPMENTS)
8.1 ESRI Inc.
8.2. Hexagon AB
8.3 IBM
8.4 Teradata
8.5 Trimble Geospatial
8.6 Here Technologies
8.7 Alteryx
8.8 TomTom Automotive
9. DISCLAIMER
**Subject to Availability on Public Domain and from Industry Experts