The Asia-Pacific oilfield chemicals market is estimated to value at USD 2,047.78 million in 2018. The market is likely to register a CAGR of 4.55% during 2018-2023 (the forecast period). In the by type segment, corrosion and scale inhibitor are to dominate the market. China is expected to lead the market, as it has the largest consumption and is the biggest importer of crude oil in the region, among others.
Rising Demand for Petroleum-Based Fuel from the Transportation Industry
Petroleum-based fuel, used for transportation, is expected to depict strong growth in the developing Asia-Pacific region. Privatization of public transportation and rising standard of living in India, result in increasing number of automobiles for daily road transportation. At present, the overall transportation and logistics industry of China accounts for nearly 15% of the country's GDP.
Corrosion & Scale Inhibitors – the fastest growing segment by chemical type
Corrosion inhibitors are used to reduce corrosion in metallic pipes of oil wells. Inhibition is the preferred treatment for carbon steel pipes and vessels. The advantage of inhibition is that in most cases, it can be used even when the process continues. The precipitates at higher temperature lead to the increase in corrosion rate, causing loss of production and restriction of flow.
China to Dominate the Market in the Region through 2023
China holds more than half of the oilfield chemicals market share in the region. This is supported by the largest consumption and import of crude oil in the region. China has also begun laying the second oil pipeline – Russia's East Siberia-Pacific pipeline to Daqing, in Northeast China. This new pipeline will help China, in importing about 30 million metric ton of crude oil from Russia annually, and will diversify the sources of crude oil, in times of decline, in domestic production. China aims to increase the domestic crude oil production output to 200 million metric ton by 2020.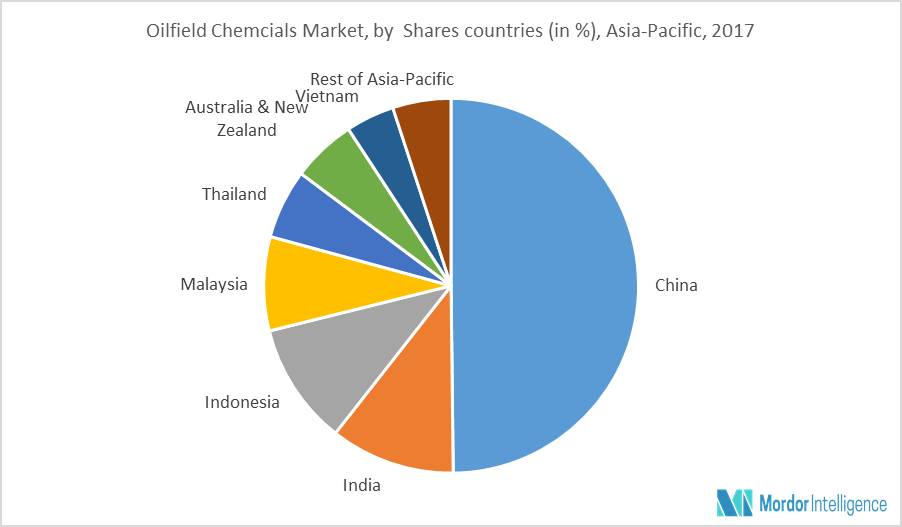 Key Developments
Major Players: Halliburton, Baker Hughes, Schlumberger, Weatherford, Nalco Champion Technologies LLC (Ecolab), and Clariant, amongst others.
Reasons to Purchase this Report
Current and future Asia-Pacific oilfield chemical market outlook in the developed and emerging markets
Analyzing various perspectives of the market with the help of Porter's five forces analysis
The segment that is expected to dominate the market
Regions that are expected to witness fastest growth during the forecast period
Identify the latest developments, market shares and strategies employed by the major market players
3 months analyst support, along with the Market Estimate sheet (in excel)
Customization of the Report
This report can be customized to meet your requirements. Please connect with our representative, who will ensure you to get a report that suits your needs.