The Asia-Pacific market for catalysts in petroleum refining, chemicals, and polymer synthesis is expected to grow at a moderate rate during the forecast period, 2018 to 2023, owing to the rapid growth in petroleum products. Asia-Pacific is the largest regional market for catalysts, accounting for approximately 37% market share in 2017, because the region has 30% of the world's petroleum refining capacity and polymer.
Growing Consumption of Petroleum Products
Asia-Pacific has witnessed significant growth based on the per capita income projected by a higher GDP growth, prompting a higher utilization of petroleum products including transport fuels, polymers, and other life amenities. Growing consumption of petroleum products like hydrocarbons drives the global catalyst market. The demand for liquid hydrocarbons is growing mainly due to the growing population and consumer class in developing countries. Increasing refinery market output in the region and the shift of the catalyst manufacturing base to Asia-Pacific countries are expected to increase the petroleum refining catalyst demand.
Polymer synthesis catalysts, accounting for 27% of the market, are expected to grow at a slightly higher rate. Increasing demand for polymers and automobiles, coupled with the imposition of regulations for the development of better standard products, is expected to enhance the worldwide demand during the forecast period. The growing consumption of petroleum products, compliance to stringent environmental regulations, and increasing refinery market output in the region are driving the market.
However, this market faces certain drawbacks such as high manufacturing costs and fluctuating prices of precious metals.
Transportation Sectors to Dominate the Market
The demand for these catalysts is primarily from the transportation sector in the region, as there is significant growth in the number of cars as well as the development of sea, air, and railway transportation. In addition to this, growth in demand for oil in developing countries will be further encouraged by the industrial sector, in particular, the petrochemical industry. Furthermore, the growing research & development activities to reduce cost and improve quality of the products will offer numerous opportunities for the growth of the Asia-Pacific catalysts in petroleum refining, chemicals, and polymer synthesis market.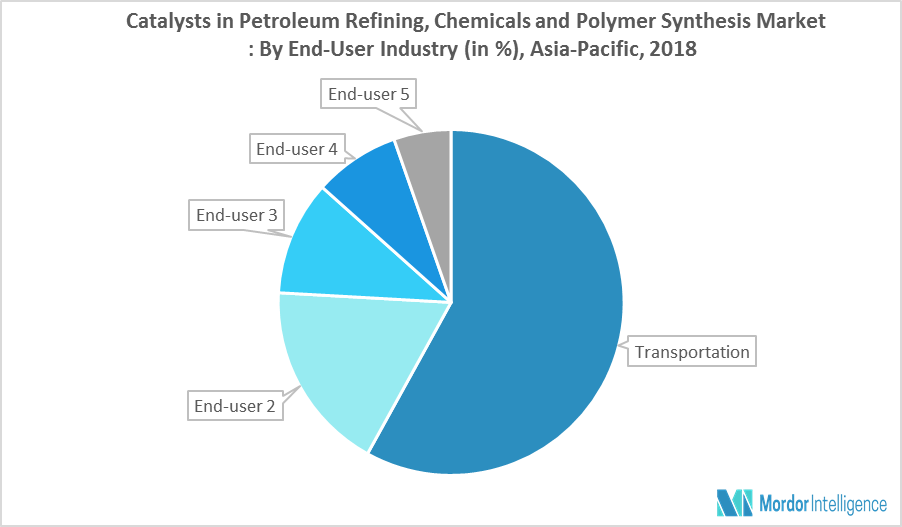 Notable Developments
November 2017: Chevron Corporation announced a seven-year partnership with Microsoft Corp., establishing to fuel the digital transformation from the reservoir to the retail pump.
Major Players: BASF SE, Bayer, Johnson Matthey, DowDuPont, Exxon Mobil Corporation, Chevron, and UOP LLC, among others.
Reasons to Purchase the Report
To understand the impact of end-user applications on the market
Analyzing various perspectives of the market with the help of Porter's five forces analysis
Countries expected to witness the fastest growth during the forecast period
Identify the latest developments, market shares, and strategies employed by the major market players
3 month analyst support, along with the Market Estimate sheet (in Excel)
Customization of the Report
This report can be customized to meet your requirements. Please connect with our representative, who will ensure you to get a report that suits your needs.
1. Introduction
1.1 Research Phases
1.2 Scope of the Market
1.3 Study Deliverables
2. Executive Summary
3. Market Insights
3.1 Industry Value Chain Analysis
3.2 Industry Attractiveness - Porter's Five Forces Analysis
3.2.1 Bargaining Power of Suppliers
3.2.2 Bargaining Power of Consumers
3.2.3 Threat of New Entrants
3.2.4 Threat of Substitute Products and Services
3.2.5 Degree of Competition
4. Market Dynamics
4.1 Drivers
4.1.1 Growing Consumption of Petroleum Products
4.1.2 Rising Demand for Maintaining High Octane Ratings
4.1.3 Increasing Refinery Market Output in the Region
4.2 Restraints
4.2.1 High Manufacturing Costs
4.2.2 Fluctuating Prices for Precious Metals
4.3 Opportunities
4.3.1 Research and Development to Reduce Cost and Improve Quality
5. Market Segmentation and Analysis (Market Size, Growth, and Forecast)
5.1 By Chemical Material
5.1.1 Metals and Organometallic Catalysts
5.1.1.1 Inexpensive Metals
5.1.1.2 Precious Metals
5.1.1.3 Metallic Compounds
5.1.2 Aluminosilicates
5.1.2.1 Zeolites
5.1.2.2 Molecular Sieves
5.1.3 Chemical Compounds
5.1.3.1 Peroxides
5.1.3.2 Acids
5.1.3.3 Amines
5.1.3.4 Other Chemicals
5.1.4 Other Catalysts
5.2 By Application
5.2.1 Petroleum Refining Catalysts
5.2.1.1 Fluid Catalytic Cracking (FCC)
5.2.1.2 Hydroprocessing
5.2.1.3 Alkylation
5.2.1.4 Reforming
5.2.1.4.1 Dehydrogenation
5.2.1.4.2 Isomerization
5.2.1.4.3 Aromatization
5.2.1.4.4 Hydrocracking
5.2.1.5 Gas Processing
5.2.1.6 Others
5.2.2 Chemical Synthesis Catalysts
5.2.2.1 Organic Synthesis
5.2.2.2 Oxidation
5.2.2.3 Hydrogenation
5.2.2.4 Dehydrogenation
5.2.2.5 Synthesis Gas and Syngas Processes
5.2.3 Polymerization Catalysts
5.2.3.1 Polyolefin Catalyst
5.2.3.2 Condensation Polymer Catalyst
5.2.3.3 Thermosetting Polymer Catalyst
5.2.3.4 Additional Polymer Catalyst
6. Regional Market Analysis (Market Size, Growth, and Forecast)
6.1 China
6.2 India
6.3 Japan
6.4 South Korea
6.5 Australia & New Zealand
6.6 Taiwan
6.7 ASEAN Countries
6.8 Rest of Asia-Pacific
7. Competitive Landscape
7.1 Mergers and Acquisitions, Joint Ventures, Collaborations, and Agreements
7.2 Market Share Analysis**
7.3 Strategies Adopted by Leading Players
8. Company Profiles (Overview, Financials**, Products & Services, and Recent Developments)
8.1 Air Products and Chemicals Incorporated
8.2 Akzo Nobel Pulp and Performance Chemicals
8.3 Albemarle Corp.
8.4 Axens
8.5 BASF SE
8.6 Bayer Technology Services
8.7 Chicago Bridge & Iron Company
8.8 Chevron
8.9 China Petroleum Chemical Corporation
8.10 Clariant International Ltd
8.11 DowDuPont
8.12 Eastman Chemical Co.
8.13 Evonik Industries
8.14 Exxon Mobil Corporation
8.15 Ineos Technologies
8.16 Johnson Matthey, Inc.
8.17 KBR, Inc.
8.18 Shell Group (Criterion/CRI Catalyst)
8.19 UOP LLC
8.20 W.R. Grace & Co.
*List not exhaustive
9. Disclaimer
**Subject to availability on public domain