The Asia-Pacific corn/maize seed treatment market had an estimated value of USD 101.0 million in 2016 and is estimated to grow further witnessing a CAGR of 12.1% during the forecast period (2018-2023).
Corn constitutes a major portion of the seed treatment market in the Asia-Pacific region. The market share is close to 25% on a global level and the region is expected to stay dominant during the forecast period. China is the largest consumer of seed treatment chemicals for maize, followed by India, with a market share of approximately 6% of the market.
Post Flowering Stalk Rot in Maize
Maize cultivation in Asian countries, like India and China, is more prone to diseases, like post flowering stalk rot (PFSR). It is a complex disease that involves more than one pathogen, it is caused by fusarium verticillioides, macrophomina phaseolina, and harpophora maydis. The disease causes yield loss due to premature plant death or by reduced kernel filling and lodging. The incidence of such diseases can be reduced by usage of treated seed in the region.
China is Dominating the Market
China is the largest market for corn/maize seed treatment in the Asia-Pacific region, it accounts for nearly 90% of the market share in the region. The Chinese government lays a great emphasis on seed treatment, as the process plays a significant role in improving crop performance by enhancing yields even under unfavorable conditions. The government has launched several initiatives, such as training the farmers with seed treatment technology, farming subsidies, and encouraging farmers to sow treated seeds.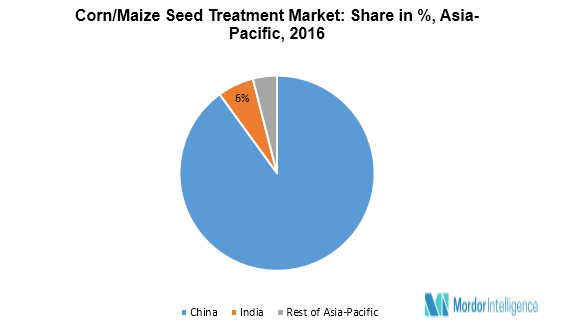 Major Players: Advanced Biological Marketing Inc., Bayer CropScience AG, DowDuPont, and Syngenta, among others.
Reasons to Purchase the Report
Identify the dominating and the fastest growing regions in the Asia-Pacific corn/maize seed treatment market and their growth trends during the forecast period
Analyzing various perspectives of the market with the help of Porter's five forces analysis
To understand the countries that are expected to witness the fastest growth during the forecast period
Identify the latest developments, market shares, and strategies employed by the major market players
3-month analyst support, along with the Market Estimate sheet (in Excel)
Customization of the Report
This report can be customized to meet your requirements. Please connect with our representative, who will ensure you get a report that suits your needs.
1. Introduction
1.1 Key Deliverables of the study
1.2 Market Definition
2. Research Scope and Methodology
2.1 Study Deliverables
2.2 Study Assumptions
2.3 Research Methodology
2.4 Research Phases
3. Market Dynamics
3.1 Drivers
3.1.1 Incidence of Diseases like Ubiquitous at Pre-harvest Stages
3.1.2 Cost Effective Method
3.1.3 Increasing Demand For High Quality Seeds
3.1.4 Encouraging Government Regulations and Campaigns
3.2 Restraints
3.2.1 Lack of Awareness Among Farmers
3.2.2 Limited Protection and Shelf-life of Treated Seeds
4. Industry Analysis
4.1 Porter's Five Forces Analysis
4.1.1 Bargaining Power of Buyers
4.1.2 Bargaining Power of Suppliers
4.1.3 Threat of New Entrants
4.1.4 Threat of Substitute Product and Services
4.1.5 Degree of Competition
5. Market Segmentation
5.1 By Application
5.1.1 Chemical
5.1.2 Non- Chemical
5.2 By Geography
5.2.1 China
5.2.2 Japan
5.2.3 India
5.2.4 Thailand
5.2.5 Vietnam
5.2.6 Australia
5.2.7 Rest of Asia-Pacific
6. Competitive landscape
6.1 Market Share Analysis
6.2 Major Strategies Adopted by Leading Players
6.3 Most Active Companies
7. Company Profiles*
7.1 Advanced Biological Marketing Inc
7.2 Bayer Cropscience AG
7.3 Dupont
7.4 Incotec Group Bv
7.5 Syngenta
7.6 Monsanto
*List not exhaustive
8. Future of the Market
9. Appendix
10. Disclaimer