The Asia-Pacific bioplastics market is expected to expand at a CAGR of 27.58% during the forecast period (2018 – 2023). Some of the major drivers for the growing demand in this market are the increasing environmental concerns, the government policies encouraging environment-friendly products, growing investments made by major market players, and a large amount of feedstock.
Consumer Shift towards Environment-friendly Products
Due to surging environment-related regulations and government initiatives to promote growing awareness, the consumers are increasingly shifting towards bio-based plastics. Increasing number of bans on traditional plastics proves to be the major driver for the growth of this market. As most of the countries in Asia-Pacific, like China, India, Bangladesh, and others, are environmentally concerned, companies are shifting to the use of bioplastics which, in turn, helps them to gain a higher consumer market share. Consequently, there is a growth in the Asia-Pacific bioplastics market.
Additionally, the fluctuation in oil prices and the change in the laws in the usage of petroleum-based plastics helped accelerate the demand for the bioplastic in Asia-Pacific.
The processing cost for bioplastics is very high as compared to the traditional petroleum-based plastic, which is hindering its growth. Adding to it, the recycling process for bioplastics is too complex and expensive to maintain.
Packaging Industry to Drive the Demand
The packaging industry is growing in Asia-pacific, which captures for more than 80% of bioplastic market in the Asia-Pacific region. This growth is due to the growing demands from countries like China, India, South Korea, and Japan. Most of the bioplastics consumed in China are used for packaging applications.
The increasing demand for flexible packaging from the consumer goods industry and the adoption of several technological innovations in packaging have led to the significant growth of the packaging industry. The packaging industry is also rising rapidly with a significant demand from the food & beverage industry. The consumption of bottled water has been witnessing a continuous growth and is expected to rise further, which will significantly increase the demand for packaging, therefore, the market for bioplastics is expected to grow.
Government Regulations Fuelled Chinese Bioplastic Demand
China is the world's largest producer of bioplastic, surpassing the production capacities of developed countries, such as Germany, United States, Japan, and others. The increase in production can be attributed to the government policies promoting the ban of non-biodegradable plastics in China's foremost provinces. These regulations and consumers preference towards environment-friendly products have attracted large numbers of manufacturers to establish bioplastic plants in these provinces, and so, playing a major role in increasing the bioplastic market of China. Existing manufacturers have also started to switch to the production of bioplastic to meet the huge demand for bioplastic in the nation.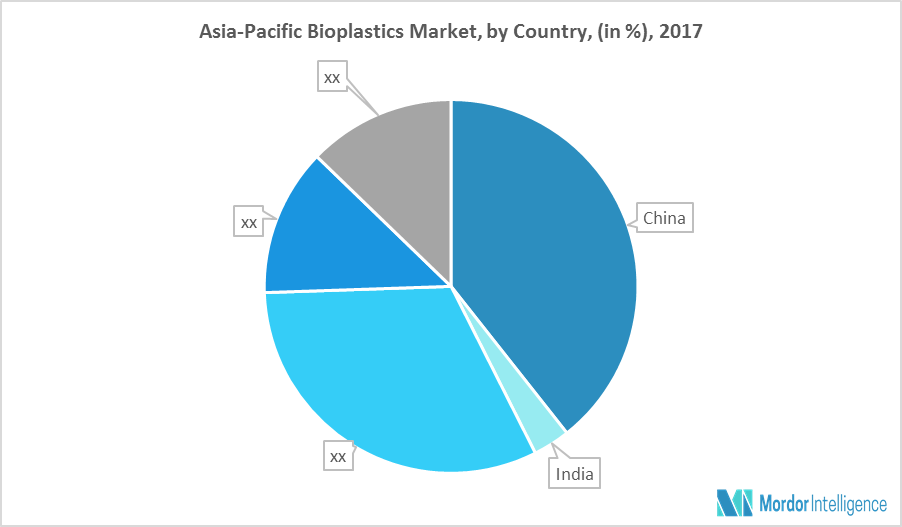 Major Players: DowDuPont, Green Day Eco-friendly materials, Nature Works LLC, Novamont, and Toray, among others.
Reasons to Purchase this Report
To understand the impact of end-user applications on the market
Analyzing various perspectives of the market with the help of Porter's five forces analysis
Identifying the countries that are expected to witness the fastest growth during the forecast period
Identify the latest developments, market shares, and strategies employed by the major market players
3-month analyst support, along with the Market Estimate sheet (in Excel)
Customization of the Report
This report can be customized to meet your requirements. Please connect with our representative, who will ensure you to get a report that suits your needs
1. Introduction
1.1 Research Phases
1.2 Study Deliverables
1.3 Scope of the Report
2. Executive Summary
3. Market Insights
3.1 Industry Value Chain Analysis
3.2 Industry Attractiveness - Porter's Five Forces Analysis
3.2.1 Bargaining Power of Suppliers
3.2.2 Bargaining Power of Consumers
3.2.3 Threat of New Entrants
3.2.4 Threat of Substitute Products and Services
3.2.5 Degree of Competition
4. Market Dynamics
4.1 Drivers
4.1.1 Increasing Demand and Purchasing Power of Growing economies
4.1.2 Government Policies and Public Initiatives
4.1.3 Lower Carbon Footprint
4.2 Restraints
4.2.1 High Cost of Setup and Recycing Process
4.2.2 Low Price of Substitutes
4.3 Opportunities
4.3.1 Substitute for Petroleum Based Plastics
4.3.2 Advancement in making Process
5. Market Segmentation and Analysis (Market Size, Growth, and Forecast)
5.1 By Product Type
5.1.1 Bio and Fossil based biogeradables
5.1.1.1 Starch Based
5.1.1.2 Polylactic Acid(PLA)
5.1.1.3 Polyhydroxyalkanoates(PHA)
5.1.1.4 Polyesters
5.1.1.5 Cellulose Derivatives
5.1.2 Bio-based Non-biodegradable
5.1.2.1 Biopolyethylene Terephthalate(PET)
5.1.2.2 Biopolyethylene
5.1.2.3 Bio ployamides
5.1.2.4 Bio polytrimethylene Terephthalate
5.1.2.5 Other non biodegradable plastics
5.2 By Origin
5.2.1 Bio-based Plastics
5.2.2 Fossil Fuel Based Plastics
5.3 By Application
5.3.1 Flexible Packaging (Films, Plastics Bags, etc.)
5.3.2 Rigid Packaging (Bottles, Containers, etc.)
5.3.3 Automotive and Assembly Operations
5.3.4 Agriculture and Horticulture
5.3.5 Construction
5.3.6 Textiles
5.3.7 Electrical & Electronics
5.3.8 Others
6. Regional Market Analysis (Market Size, Growth, and Forecast)
6.1 China
6.2 India
6.3 Japan
6.4 South Korea
6.5 Rest of Asia-Pacific
7. Competitive Landscape
7.1 Mergers and Acquisitions, Joint Ventures, Collaborations and Agreements
7.2 Market Share Analysis**
7.3 Strategies Adopted by Leading Players
8. Company Profiles (Overview, Financials**, Products & Services and Recent Developments)
8.1 API S.P.A
8.2 Arkema SA
8.3 Bioamber Inc.
8.4 Bioapply polymers
8.5 BASF SE
8.6 Braskem
8.7 Corbion
8.8 DowDuPont
8.9 Futerro
8.10 Green day Eco Friendly Material Co. Ltd
8.11 Limagrain
8.12 Kaneka Corporation
8.13 Meridian Holdings Group Inc(MHG)
8.14 Metbolix Inc.
8.15 Mitsubishi chemical Corporation
8.16 Natureworks LLC
8.17 Novamont S.p.A.
8.18 Plantic Technologies Ltd
8.19 Showa Denko KK
8.20 Solvay SA
8.21 Tianjin green Bio Material Co Ltd
8.22 Toyobo
8.23 Toray International Inc.
8.24 Trelis Bioplastics
*List not exhaustive
9. Disclaimer
**Subject to availability on public domain