Argentina is one of the largest economies in Latin America, with a GDP of more than USD 600 billion. It has a high urban population of more than 90%, and the rate of urbanization is expected to be 0.93% annually during 2015-2020. Being an upper middle income country, Argentina produced 1.22 kg/capita/day of municipal solid waste (MSW) in 2012. According to World Bank, the population of the country was around 44 million in 2017, and it is expected to reach 46 million, with MSW generation of 1.85 kg/capita/day, by 2025. As a result, the demand for waste-to-energy is expected to increase with increasing MSW generation for sustainable development.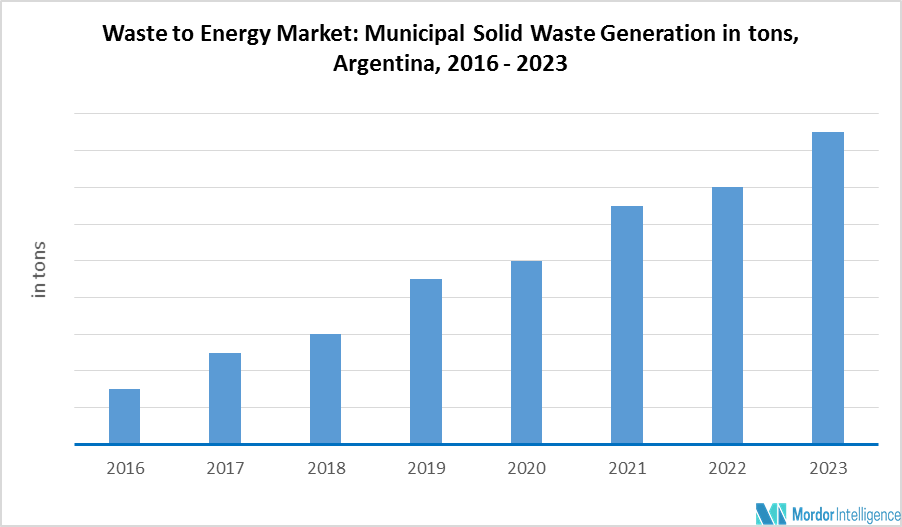 Upcoming Projects – Propelling the Market
Buenos Aires, the capital of Argentina produces around 15,000 metric ton of waste per day, which is sent to landfills. The country is planning to install seven waste-to-energy plants, in the capital, for waste treatment. The projects include an incineration plant for the final treatment of the garbage. The plants are expected to be installed in properties that are already impacted. Thermal recovery method is expected to be promoted in the country, and design a program to 2030, in the coming future. As a result, the demand for waste-to-energy technology is expected to be promising in the country.
Encouraging Investment in the Industrial Sector
Argentina's industrial sector's contribution to the GDP has declined from 34% in 2006 to 28.9% in 2016. However, the country showed some improvement in industries, like automobile and metallurgy, in 2017. Further, the government has issued measures to simplify bureaucratic procedures, to reduce production cost and encourage investment. The measure includes eliminating import licenses for hundreds of products, suppressing various procedure hindering development of the productive sector for years. As a result, the industrial sector is expected to grow in the coming future. Volume of waste increases with increasing industrialization. Hence, the demand for waste recovery methods is expected to grow in the developing industries.
Changing Food Waste Attitudes and Behavior – Reducing the Volume of MSW
Argentina's capital is tackling the growing challenges of food waste and shortages with a source-based strategy, targeting households, restaurants, and schools. It involves reducing food waste sent to landfills. Starting in primary school and working with the UN's Food and Agriculture Organization, the capital aims to spread information about practices for minimizing and dealing with food waste. It also focuses on communities and restaurants, by organizing workshops to engage citizens. Such efforts are expected to reduce the volume of waste, and hence, restraint the market.
Notable Developments in the Market
January 2018: Veolia won the contract for operating Rennes Metropole's waste-to-energy plant for three and half years. The facility is expected to produce 110,000 MWh of electricity.
Major Players: INCOL SA Certified Technology, Veolia Environment SA, Addfield Environmental Systems Ltd, among others.
Reasons to Purchase This Report
Current and future Argentina waste to energy market outlook in the developed and emerging markets
Segment that is expected to dominate the market
Regions that are expected to witness the fastest growth during the forecast period
Identify the latest developments, market shares, and strategies employed by the major market players
3 months analyst support, along with the Market Estimate sheet (in excel)
Customization of the Report
This report can be customized to meet your requirements. Please connect with our representative, who will ensure you to get a report that suits your needs.