The global acetyl market is expected to witness a CAGR of approximately 8.6% during the forecast period, majorly driven by its increasing application base in the pharmaceutical, food & beverage, and oil & gas sectors.
Increasing Usage in Pharmaceutical Industry
Acetyl is required in the pharmaceutical industry for a wide range of applications. These include, paracetamols, pain killers, and relievers. There has been a constantly increasing demand for acetyl from the pharmaceutical industry due to the significant rise in demand for such medication, consequent to the rise in general health issues, primarily influenced by the changing lifestyle and food habits. Additionally, acetyls enhances drug delivery systems which makes it largely preferred in the healthcare sector, in turn driving the market.
Acetic Acid Dominates the Market
Acetyl is a key raw material required in the production of medicines. There has been a significant rise in the demand for medication, such as acetylsalicylic acid (aspirins), sulfa drugs, and various other medicines. There has also been a substantial growth in the number of general health issues, over the years, such as fever, cough and cold, body pains, nausea, etc. This has led to an increase in demand for drugs, like aspirin and paracetamol. Therefore, the demand for acetyl is expected to increase from the pharmaceutical sector at a significant pace, during the forecast period.
Asia Pacific is the Most Dominating Region
In terms of consumption in 2017, Asia-Pacific held the largest share. China is the largest producer and consumer of acetic acid. The consumption levels of acetyl in the country are expected to rise at a rapid pace owing to the increasing demand from the end-user industries including medical, food and beverage as well as paints and coatings sector. Additionally, the pharmaceutical industry is expected to expand further in the region which in turn shall further augment the growth of acetyl market during the forecast period.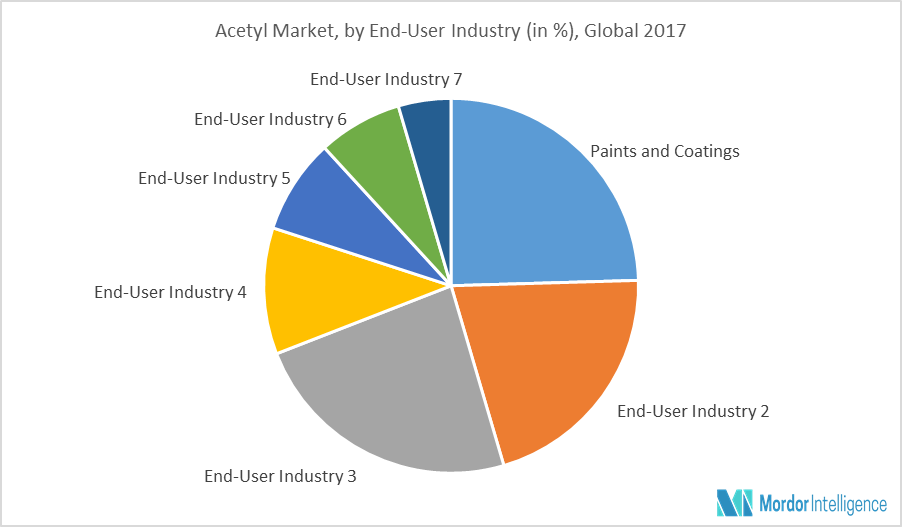 Key Developments in the Market
Major Players: BP Global, Celanese Corporation, Daicel Corp., Sinopec Group, and the DOW Chemical Company among others.
Reason to Purchase this Report
Analyzing various perspectives of the market with the help of Porter's five forces analysis
To understand the dominating process type and filler used in the market
Countries expected to witness the fastest growth during the forecast period
Identify the latest developments, market shares, and strategies employed by the major market players.
3 months analyst support, along with the Market Estimate sheet (in excel)
Customization of the Report
This report can be customized to meet your requirements. Please connect with our analyst, who will ensure you get a report that suits your needs.
1. Introduction
1.1 Research Phases
1.2 Study Deliverables
1.3 Scope of the Report
2. Executive Summary
3. Market Insights
3.1 Industry Value Chain Analysis
3.2 Industry Attractiveness – Porter's Five Forces Analysis
3.2.1 Bargaining Power of Suppliers
3.2.2 Bargaining Power of Consumers
3.2.3 Threat of New Entrants
3.2.4 Threat of Substitute Products and Services
3.2.5 Degree of Competition
3.3 Feedstock Analysis
3.3.1 Global Capacity by Key Feedstock
3.3.2 Trends
3.4 Technological Snapshot
3.4.1 Production Process
3.4.2 Technology Licensing
3.5 Patent Analysis
3.6 Trade Analysis
3.7 Price Index
3.8 Supply Scenario
3.8.1 Capacity and Production Analysis
3.9 Upcoming Projects & Capital Expenditure
3.10 Regulatory Policy Analysis
4. Market Dynamics
4.1 Drivers
4.1.1 Increased Application in Enhanced Drug Delivery
4.1.2 Increasing Use in the Food & Beverage Industry
4.1.3 Increasing Use in the Oil & Gas Sector
4.2 Restraints
4.2.1 Decrease in Demand from Solvent-borne Adhesives
4.3 Opportunity
4.3.1 Increasing R&D
5. Market Segmentation and Analysis (Market Size, Growth, and Forecast)
5.1 By Product Type
5.1.1 Acetic Acid
5.1.2 Acetic Anhydride
5.1.3 Vinyl Acetate
5.1.4 Ethylene Acetate
5.1.5 Others
5.2 By End-user Industry
5.2.1 Food & Beverage
5.2.2 Oil & Gas
5.2.3 Pharmaceutical
5.2.4 Paints & Coatings
5.2.5 Inks & Waxes
5.2.6 Furniture
5.2.7 Others
6. Regional Market Analysis (Market Size, Growth, and Forecast)
6.1 Asia-Pacific
6.1.1 China
6.1.2 India
6.1.3 Japan
6.1.4 South Korea
6.1.5 Rest of Asia-Pacific
6.2 North America
6.2.1 United States
6.2.2 Canada
6.2.3 Mexico
6.2.4 Rest of North America
6.3 Europe
6.3.1 Germany
6.3.2 United Kingdom
6.3.3 Italy
6.3.4 France
6.3.5 Rest of Europe
6.4 South America
6.4.1 Brazil
6.4.2 Argentina
6.4.3 Rest of South America
6.5 Middle East & Africa
6.5.1 Saudi Arabia
6.5.2 South Africa
6.5.3 Rest of Middle East & Africa
7. Future of the Market
8. Competitive Landscape
8.1 Mergers & Acquisitions, Joint Ventures, Collaborations, and Agreements
8.2 Market Share Analysis**
8.3 Strategies Adopted by Leading Players
9. Company Profiles (Overview, Financials**, Products & Services, Recent Developments, and Analyst View)
9.1 BP Global
9.2 Celanese Corp.
9.3 Chloritech Industries
9.4 Daicel Corp.
9.5 Eastman Chemical Company
9.6 Gujarat Narmada Valley Fertilizers & Chemicals Limited
9.7 HELM AG
9.8 Jiangsu Sopo (Group) Co., Ltd
9.9 Kanoria Chemicals & Industries Ltd
9.10 Kingboard Chemical Holdings Ltd
9.11 LyondellBasell Industries Holdings BV
9.12 S.R.Drugs and Intermediates Pvt Ltd
9.13 PetroChina
9.14 SABIC
9.15 Sinopec Group
9.16 DowDuPont
9.17 Wacker Chemie AG
*List not exhaustive
10. Disclaimer
**Subject to availability on public domain